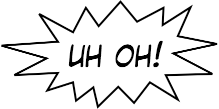 Enter the Pyramid and surpass as many chambers as possible!
But be careful where you step!
The floor is full of Egyptian traps.
Avoid them all and get to the other side.
Many fun and colorful levels are waiting for you.
Test your intuition and your luck.
It's a trap. And it's addictive.
Uh Oh! is also "wearable". Try it on Apple Watch!
Featured by Apple in Great Apps & Games for watchOS 2.

Uh Oh! Screenshots | iPhone + Apple Watch
Uh Oh! Walkthrough on Apple Watch